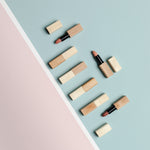 HAVU Cosmetics' sustainable world - Luxury cosmetics born out of Finland's beautiful nature.
Recently we got contacted from Design Hunger, who wanted to make a blog post about our brand. Wouldn't the answer be obvious? We love design, so of course we would love to be featured in that blog!
Design Hunger is a blog created by Juliette, a passionate of furniture, home decor, fashion, colors and design. If you are a Deco addict, Fashion lover, Design junky looking for inspiration, the Blog magazine is for you!
In the blog post:
"For those of you who keep up with us it's not a surprise that we like to showcase brands that have concern for the environment as a founding pillar. Now, more than ever, it's time to support local and sustainable projects, so we bring yet another label that has caught our attention for its ethical aspect, unique design and quality products: HAVU Cosmetics." Writes Juliette.
Read more about the post here.