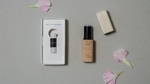 Makeup containers are usually not made for just one-time use; they are generally made from tough materials. Still, they are used just once and then thrown away – and they end up in landfills. Care for the planet - don't throw your old lipstick case away – refill it with natural cosmetics lipstick. The refills are suitable for any kind of 12.7 mm container, which means you can also refill any other brand's container with HAVU lipstick! HAVU's refill makes every lipstick a little bit greener – you're welcome. 
We have made the refills as easy to use as possible. All you need is an empty lipstick container, a toothpick or another slim item, some paper and a HAVU refill. Clean the old lipstick container by digging and swirling the remnants of the old lipstick out of the container. Use a toothpick to get most of the product out and then clean it with a small piece of paper.
PREPARE: Clean the lipstick case as well as possible.
1. Remove the first sticker and cover of the refill.
2. Grab the refill from the upper area and place it gently on the lipstick case.
3. Remove the rest of the protective paper.
READY: Apply your new lipstick to your lips and be amazing!