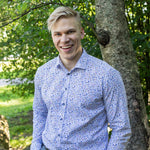 Behind every idea there is someone who is ready to execute it. In HAVU's case it was Tatu Fontell. It is almost safe to say that without Tatu, HAVU Cosmetics would not be in the state of business that it is in, today.
This young student studying chemical technology, has been interested in being an entrepreneur from a young age. While following the process of Lumi Maunuvaara creating HAVU Cosmetics, it felt like a good opportunity to turn this idea into a business. Tatu's interest in HAVU lies in his passion for environmental-friendly products. 
Having the opportunity of being an entrepreneur while studying has proven to be a good idea as everything you learn can be put into action through your own business. There has been a lot to learn, however, it all pays off when you see your own brand grow both domestically and internationally. "I find my strength in numbers and figuring out the big picture on how to make a good brand and product to survive in the market. When the decision of making HAVU Cosmetics into a business was made, we gave ourselves one year to prepare, learn and make it happen," says Tatu Fontell.