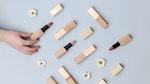 Sometimes it's really hard to choose a lipstick shade from all the beautiful shades. We think you can rock any shade you want to, but if you are struggling, we have a few tips for you to pay attention to.  
Choose a lipstick that complements your skin tone 
When it comes to choosing a lipstick, the most important things to keep in mind are your skin tone and your undertone. Undertones fall into three basic categories: warm, cool, and neutral. Everyone's skin has undertones of either yellow or pink. Yellow is warmer, pink is cooler. As a rule of thumb, you want to wear a lipstick shade that has the same undertones as your skin. It means that if you have warm tones, wear warm shades, and if you have cool tones, wear cooler hues. Or if your undertone is neutral, you'll look good in basically everything.  
Cool pinks, such as HANAMI, fit perfectly on cool-toned skin, while darker complexions can carry burgundy shades with ease, such as LILY. When going for a red lip, veer more towards deep bluish-reds, such as CRANBERRY. When going for nude lips, you can enhance the natural flush of your lips with a rosy, pink nude or opt for a taupey beige, such as SAND, for a more subtle look.  
Fiery reds and oranges pop beautifully on warm undertones. Choose a shade that leans towards orangey hues, like coral, gold, copper, and all the way to the siennas and browns. PEACHy pink shades, orange-toned REDs, and rosy pink shades will complement your skin tone best. 
Shades that make your teeth look whiter 
The fastest way to whiten your teeth is simply with a smart shade of lipstick. Lipsticks formulated with a blue base will help diminish any orange or yellow tones on your teeth. Why? It's all to do with the colour wheel. Blue and yellow sit across from each other on the wheel, so blue tones tend to cancel out orange or yellow tones when put together, and vice versa. 
The perfect shades to whiten your teeth are blue-based reds, such as CRANBERRY, and raspberry tinted shades, like LILY. Darker pinks are the easiest shades to wear with little risk of making the teeth look yellow. Purple, plum and berry-like shades will also have the same effect. For example, VIOLET and COSMOS are the perfect cool purples. A dark purple shade is especially flattering for darker skin tones. Berries are normally a combination of pink and purple tints, so the blue tones are very strong. 
The same goes with nude shades. In order to boost the brightness of your pearly whites, pick a pinky nude. Cool-toned pinks, such as ROSE and HANAMI, will complement your teeth the best.  
The same shade looks different in different lightings 
Lighting is different indoor and outdoor, as indoor lighting is usually a bit more yellow and natural light outside is much cooler. Product pictures and ads are usually shot in natural light or in cool studio light.
If you are shopping at a store where the lighting is yellow, you should always give the shade a try in natural light too, if you have chance. In warm light, the shade looks warmer as well. Taking the tester outside or going by the window is how you know how the shade looks in both lightings. If you order from online store and the shade looks different than in a picture, try the same thing - going out and try it on again!