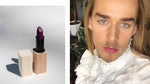 In the past weeks, we've published customer reviews of HAVU's new shades, which we've launched this autumn. (Have you already checked out Kira's review of SAND and Saba's review of CRANBERRY?) This week on our blog, Nooa is giving us his review of COSMOS!  
Inspired by the starry night sky, COSMOS is a bright purple shade with a bit of a glow to it. The shade is perfect for creating a statement purple lip but can also be used to achieve a plum-tinted, glossy look by adding just a thin layer of colour onto the lip (with perhaps some lip balm or gloss on top!) Either way you choose to use it, COSMOS is great for moments when you want a little boost of courage or determination.  
A daring shade for sure, COSMOS is the lipstick for every occasion, from daily life to nights out: "The colour is perfect for serious work mode as well as going out clubbing, just add a little eyeliner to go with it and voilà!", Nooa tells us. While he notes that the shade pairs well with a dark outfit when you want to give out an aura of mystery and elegance, Nooa also recommends trying it on with some lighter-toned clothing if you want to go for a more natural, toned-down look.   
HAVU lipsticks are designed with natural ingredients only to provide a comfortable feel on the lips. Nooa describes the feel of COSMOS as "moisturising, pleasant and not too sticky." "A big plus for the environmentally conscious production process", he adds.  
If you're looking for an eye-catcher lipstick, COSMOS is a sure choice. Adding a bright-toned lip into your look can be a fun way to play around with it, explore new things and highlight your natural beauty! To quote Nooa: "COSMOS brings out the confident, boss-like you and the sexy lips that you've got!"