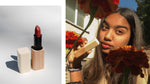 As HAVU has launched new autumnal lipstick shades, we've asked our customers to test them and give us a little review with some styling tips. Last week, Kira tested out the nude shade SAND (you can check out the review here!), and this week, we're taking a look at the very seasonal shade CRANBERRY, of which our customer Saba has given us a review. 
Inspired by the autumn berry, CRANBERRY is an addition to HAVU's classic red lipsticks. A full, juicy cherry-red with a cool undertone, CRANBERRY is a sure choice for those days when you need to compensate for the autumn weather by adding a bright red lip into your look.  
For a dark skin tone, CRANBERRY works as a subtle pop of colour in an everyday look: "Let's be real, I don't feel comfortable wearing many lipstick shades on the regular, since the wrong shades do not compliment my dark complexion. This shade, being subtle yet very seasonal, has become my everyday lipstick", Saba tells us. The shade leaves her lips beautifully plush and tinted with berry red "just as real cranberries would". 
On cold mornings, Saba creates her favourite look by combining CRANBERRY with a bright autumn sweater. The shade also goes well with a simple (yet always stylish) all-black outfit, with which a statement red lip is sure to stand out. She notes that the uses for a classic red shade are many: "From needing a quick, put together look after the gym to using Cranberry as my finishing touch to a glam look, it really does the trick for me. I wore it to my senior initiation day when I was dressed as an all-white goddess and it helped me stay in the element for the whole night".  
Whether you're getting ready for an evening out, a day of work or just for fun, we want CRANBERRY to be a shade that makes you feel like your best, boldest self! Designed with natural ingredients for long-lasting wear and a comfortable feel on the lips, CRANBERRY is a shade you can wear to bring a pop of colour into every occasion. As Saba puts it: "Not once does CRANBERRY fall short of making me feel like my own goddess."  
(P. S. If you're looking for a warmer shade of red to compliment your complexion, maybe you'd be interested in checking out our more orange-tinted lipstick, RED!)