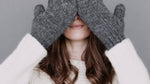 We have all been there – lips feel tight and cracked after a day out in winter. The air is dry and cold and during these times, we also use facemasks which dry out the skin even more.  
Lips are metaphorically and literally like sponges – they absorb water to plump up. But they're also one of the only parts of our body that can't sweat or produce oil, which leaves them very vulnerable to dehydration. In a low humidity climate, your lips can become dry, rough or even start to peel. 
That's why we are sharing our best tips for keeping your lips beautiful, healthy and kissable during winter time!
1. Exfoliate  
Remove dry, dead skin flakes by gently brushing your lips with a lip scrub. We recommend doing this 1-2 times a week when your lips feel like they need it. Lips are a sensitive area, so make sure that the scrub is not too harsh or the exfoliators too big.
2. Hydrate 
Unlike the rest of your skin, lips tend to dry out and become chapped easily since they do not contain oil glands. Drink lots of water to keep your lips from drying out, and avoid licking your lips which also saps moisture. Apply fatty and oily lip balm to soothe and nourish lips and to create a natural-looking sheen that helps protect your lips from the drying effects of the elements. Lip balms that contain shea butter, cocoa butter and coconut oil give your lips a natural barrier of protection.
3. Keep your lips hydrated overnight 
While awake, you know when your lips dry out, but this could be a problem when you are asleep. The air around you tends to dry out your lips during the night. You might also breathe with your mouth open, which lets the moisture fade away. Apply a thick layer of lip mask before bed and your lips will have the whole night to soak up moisture and any oily nutrients they can't generate themselves.
4. Make sure you're using the right products 
Some products claim to be moisturising but they contain a lot of water, which does not moisturise or nurse your lips – it might even do the opposite. Ingredients that contain lots of fatty acids are good for your lips, for example castor seed oil and shea butter. You should also pay attention to which scrub you are using, since some brands use microplastic as an exfoliator, and you don't want to scrub your skin with plastic. Good ingredients you might want to prefer are natural-based ingredients like birch bark, sugar and peanut skin. 
Use non-irritating lip balm, lipstick and other products that you use on your lips. Many people mistake discomfort, such as burning, stinging or tingling, as a sign that the active ingredients in a product are working. That's not what's happening. You're actually irritating your lips, so you might want to stop using any product that do so. Ingredients to avoid while your lips are chapped are eucalyptus, any type of flavoring or fragrance and menthol, for example. 
5. Use lipstick when stepping out 
Yes, the good news is that it is good to use some lipstick before you step out. Since the lips have no natural protection, wearing lipstick will help you add an extra layer to them. Using lipstick protects your lips from the sun, dry air, dirt and other outside factors. 
Now put on that gorgeous smile of yours and enjoy your soft lips!