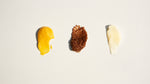 HAVU's lip care products pamper both your lips and the surrounding nature. They are a little piece of luxury for your casual day, brought to you straight from nature.
1. Apply the deep moisturising sea buckthorn mask on the lips in the evening and leave overnight.
2. Exfoliate soft lips in the morning with gentle birch scrub.
3. Apply the lip balm intended for daily use before putting on makeup and apply during the day if necessary.
4. Add your favourite HAVU lipstick and be amazing!