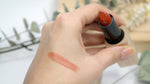 Nena Sofia, a student of beauty and cosmetics in her 20s, wrote a delightful review of HAVU's shade RED in her blog! 
"I've been using Havu Cosmetics' lipstick in the shade of RED all throughout the year, and it has taken its place as "the red" - a lipstick that has to be in my makeup bag at all times. The lipstick's waxy texture spreads softly on dry lips and stays in place with a half-matte finish.  
The best thing about the lipstick is definitely its nourishing composition. It's time to admit that my lips just aren't made for matte lip lacquers. They need gentle caring and a product that does not absorb all moisture when it's applied. HAVU's lipstick would work just as well as a lip balm, which is why I trust it even during the frosty winter months."